Water Damage in Northwest Michigan
Sanitization Services & Disinfection Solutions 
You have a part to play in slowing the spread of the coronavirus through Traverse City. You can help flatten the curve in our community by staying isolated as much as possible. If you must go out, make sure that you stay distant from other people and ensure you practice thorough hand washing techniques. You can also work with the professionals to ensure your property is disinfected and sanitized.
911 Restoration of Northwest Michigan can provide you with professional sanitization services. We use the most current guidelines issued by the CDC and EPA to develop disinfection solutions for you. You can contact us if you need help with office deep cleaning or sanitization of any retail space. Our sanitization specialists will put you first during this time of crisis. Reach out to us today to start sanitization and disinfection here in Traverse City.
Mold Removal
Whether you know you have mold or merely suspect you do, call us for an expert mold inspection. Our mold removal technicians are IICRC certified. They uncover an infestation no matter where it hides, and they manage mold remediation using the safest and most effective methods.
When it comes to mold removal, 911 Restoration sees the big picture. Simple mold cleanup is not enough. Our goal is to eliminate the infestation and address the cause, so you're less likely to deal with a repeat problem.
After our technicians complete mold removal, they dehumidify the site of the infestation. This means they dry the structure to its core, so moisture does not rise to the surface and create new growth. They also inspect for damage and stains. If they discover any mold-related destruction, the mold removal workers repair the issue themselves. It doesn't matter if you need new drywall or contaminated carpet removal. Our experts do it all.
Don't wait on mold remediation. Call 911 Restoration for mold removal in Traverse City, Cadillac, Gaylord, and the surrounding areas.
Sewage Backup and Cleanup
If you wake at 3:00 a.m. to the horrible stench of sewage, don't panic. Call 911 Restoration of Northwest Michigan. We're here for you even in the dead of night. And when you call, our sewage cleanup technicians are there in 45 minutes or less, guaranteed.
We move quickly because we know a sewage backup is always an emergency. Blackwater destroys your property and carries dangerous, disease-causing microorganisms into your home or business. When our sewage cleanup technicians arrive, they extract toilet water immediately. Then, they sanitize the area thoroughly and dry your property using professional fans. They also handle carpet drying and any necessary structural or surface repairs.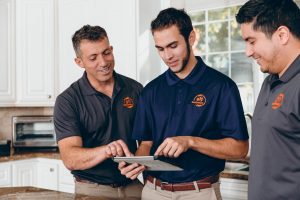 Finally, our sewage cleanup technicians inspect your property for mold. If you've had a particularly bad backup or a toilet water flood that went undiscovered for a while, you could have a new mold problem. Our staff ensures your property is truly clean before they leave your home or business.
When a sewage backup strikes, your beautiful property suddenly feels unfamiliar and contaminated. Call 911 Restoration of Northwest Michigan, and let us make your space the sweet-smelling refuge it once was.
Fire and Smoke Damage Restoration
If you've had a fire or puffback, recovering your property may feel impossible. Don't worry. Just call 911 Restoration and let us turn this disaster into a Fresh Start.
Fire damage restoration can be a complex process. Each incident is unique, and that's why we train our fire damage restoration technicians to handle every eventuality. They take care of smoke and odor removal. They use sodablasting to get rid of ash and soot. They even clean your dishes and furniture.
Our fire damage restoration crew also takes care of property repairs. Whether you need a new roof or your kitchen has been destroyed completely, our experts do it all. They even cleanup water damage if the fire department flooded your property.
Along the way, you can always turn to our fire damage restoration staff with all your questions. We know how a disaster like this can send your mind reeling, and we hope you'll consider us your fire information center.
Whether you're in Traverse City, Gaylord, or anywhere else in the region, you're never alone in a fire or puffback disaster. Call 911 Restoration for the support you deserve.
Disaster Restoration
An unexpected disaster isn't just costly; it's also devastating. Whether it's a flood or a tornado, a disaster seems to undo all the hard work you've put into caring for your property. At 911 Restoration, we're as determined as you are to make sure your best efforts were not for nothing.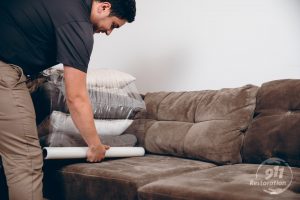 Our IICRC certified disaster restoration technicians have completed rigorous training. They are prepared to confront every type of property damage, from water damage to fire destruction. It doesn't matter if the structure has been destroyed. It doesn't matter if your home or business is contaminated. Our crew cleans the damage, rebuilds your property, and leaves you with a home or business that feels brand new.
We're here for you 24/7/364. Tornadoes don't adhere to normal business hours, so neither do we.
No matter what you've been through, what type of property you own, or where you are in the Traverse City area, count on us. Call 911 Restoration for compassionate, comprehensive disaster restoration today.
Commercial Restoration
Your commercial property is more than a building. It's your livelihood and your legacy. When that property is threatened, you need someone who can help you recover quickly and completely.
911 Restoration of Northwest Michigan is here 24 hours a day, every day of the year. We cover every property incident, including water damage, mold removal, fire damage restoration, and sewage cleanup. You can even turn to us for unique disasters such as floods and tornadoes.
Our commercial restoration technicians understand your urgency to rebuild. They work quickly and communicate honestly, so you always know what to expect throughout the process. We provide a free visual inspection (for property owners only). A staff member also sits down with you for a free insurance consultation, so you go into commercial restoration with open eyes.
Today's incident doesn't have to be a crisis for your company. Call 911 Restoration and let us make your property stronger and brighter than ever.