Sanitization Service and Deep Clean in Northwest Michigan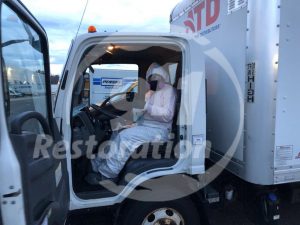 Traverse City recently began partially reopening after the initial shutdown for the coronavirus. Businesses throughout the city are preparing to open their doors once more, just in time for the city's 125th anniversary. During this time, many commercial and residential property owners are concerned about keeping their properties clean and sanitized.
You can contact 911 Restoration of Northwest Michigan to review disinfection solutions that may work for you, if you have a business reopening. Scheduling sanitization services in Traverse City may allow you to maintain your peace of mind as we all adjust to the new normal.
911 Restoration of Northwest Michigan bases our sanitization services on the guidelines issued by the CDC and the EPA. We focus on cleaning hard and soft surfaces throughout your commercial or residential property. You may contact us if you want one-time sanitization services or if you're interested in scheduling regular cleanings throughout the day.
Many customers are looking forward to visiting their favorite stores and restaurants once more. You may be able to increase their peace of mind when they visit your business by focusing on disinfection solutions that will work for you. Find out more by contacting 911 Restoration of Northwest Michigan.
Get Help with Traverse City Disinfection Solutions
Keeping your property clean and sanitized may be very important during the coronavirus pandemic. As businesses reopen, more people may enter your property. You may wish to schedule regular sanitization, especially for areas that see heavy traffic. 911 Restoration of Northwest Michigan may be able to help clean and sanitize:
Soft surfaces like drapes or carpets

Hard surfaces like counters or tables

Electronics like keyboards or touch screens
Cleaning may be a multi-step process here in Traverse City. The CDC recommends that surfaces be cleaned with soap and water first. After this cleaning, techs may move on to sanitization with the use of disinfectants specifically approved by the EPA. 
Note that you may sanitize some areas of your property on your own if you wish. You may use EPA approved disinfectants, alcohol solutions, or bleach solutions. Make sure that you wear gloves if you work to sanitize your property on your own. These gloves should be disposable and they should be thrown away after you are finished.
You may reach out to 911 Restoration of Northwest Michigan to get professional help handling your sanitization services. Reach out to us now to learn more about your options for commercial or residential cleanup.