Disaster Restoration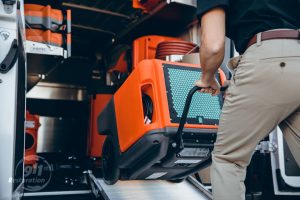 When you need disaster restoration in Traverse City, Petoskey, and the surrounding area, there's one clear solution. Call 911 Restoration. Our emergency restoration technicians provide relief in every disaster. Whether you've endured a tornado, flood,or any other unexpected crisis, we're here for you. Our phone lines are open 24/7/365, and our disaster restoration crew arrives in 45 minutes or less, guaranteed.
911 Restoration of Northwest Michigan is locally owned and operated. That means you are our neighbor, and your property is an essential part of our strong and vibrant community. Our entire damage restoration staff is personally invested in your recovery. We do everything it takes to make sure we're prepared for any challenge.
Our emergency restoration workers are IICRC certified and rigorously trained in property restoration. They handle every disaster, from fire damage to floods. We prepare our experts to give you a Fresh Start. They don't just clean up the mess. They repair every structure, sanitize your property, inspect for mold, and leave you with a home or business that feels better than new.
Along the way, we communicate clearly, anticipate your needs, and address your questions promptly. It's hard to think straight when your greatest asset is at stake, and you can count on our crew to treat you with understanding and compassion. Our expert technicians explain everything in simple terms. We even provide a free insurance consultation and assistance with claim filing.
You don't have to get through this alone. 911 Restoration of Northwest Michigan is here for you 24 hours a day, 365 days a year. All you have to do is call.
Emergency Water Damage Restoration in Traverse City and Beyond
When we get a call for disaster restoration in Traverse City and the surrounding area, water damage is almost always involved. The local climate ravages properties with violent storms, floods, and tornadoes. Even a property fire can lead to water damage once the fire hose enters the picture.
Whatever has caused your disaster, be assured that water damage restoration is an emergency service. That means we're on the scene immediately whenever water invades your property. Day or night, weekday, weekend, or holiday, our water damage restoration technicians are at your door.
Their first goal is to prevent any additional destruction. They check your property for unharmed belongings, then pack those items away for safekeeping. Then, they manage existing damages by moving fast to remove water from your home or business. As seasoned water damage restoration experts, our team provides a wide range of emergency services. This includes storm repair, roof repair, boarding up, water extraction, and much more.
Once they've cleared out the water and dried your property, they turn their focus to structural damage. A property disaster often comes with obvious destruction. But it's also possible that the structure of your home or business has become weak. Our emergency restoration crew conducts structural testing to ensure your property is still sound. They also inspect for mold in the event of a water-related disaster. No matter what form of damage you're dealing with, our disaster restoration crew takes care of repairs themselves.
From water damage restoration to fire cleanup, let us be your ally in a disaster.
Minimizing the Cost of Disaster Restoration
If you're like most property owners, the cost of emergency restoration weighs heavily on your mind. At 911 Restoration, we understand your concern. A Fresh Start sounds great, but you might wonder if you can afford one. And the thought of dealing with your insurance company makes you feel even more anxious.
Take a deep breath and hand all your worries over to us.
Our disaster restoration staff works with you to keep costs low. We provide 24-hour emergency restoration service with the goal of minimizing damage. The sooner we address a problem, the better our chances of limiting destruction and keeping costs under control.
We also provide a free insurance consultation so you don't have to fumble your way through confusing insurance calls. During this consultation, a disaster restoration expert sits down with you to go over your policy. They explain what services you need and then clarify which costs your provider covers.
Our team is right beside you even through the claim filing process. Turn to us for assistance with inventory and loss itemization. Let us file your claim for you. And leave it to us to bill your provider and pursue payment. You have bigger things to worry about.
Whatever you're going through, we want to be your number one resource. If you need disaster restoration, make 911 Restoration of Northwest Michigan  your first and only call.
Serving the communities of Cadillac, Charlevoix, Gaylord, Grayling, Harbor Springs, Houghton Lake, Manistee, Petoskey, Roscommon, Traverse City and surrounding area.