Fire Damage Restoration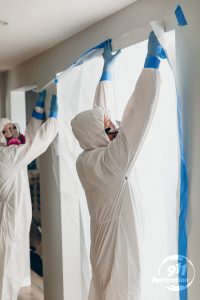 If you need fire restoration or smoke removal in Traverse City, Cadillac, or the surrounding area, count on 911 Restoration. We do more than standard fire cleanup. We address your deepest concerns, anticipate your needs, and work diligently to provide you with a Fresh Start. After all the effort and resources you've put into your property, fire and smoke damage is devastating. But even if you feel like you've hit your lowest point, we're determined to make this an opportunity for a new beginning.
Our IICRC certified fire restoration technicians have the skills and equipment to make your home or business brand new. They do it all, from smoke and odor removal to structural renovations. They even handle water damage restoration if your property was flooded by the firehose.
You can trust your dedicated smoke cleanup crew to put your peace of mind above all else. They offer a free fire damage assessment and talk through your options clearly. If you're worried about the cost of fire restoration, take advantage of our free insurance consultation. We take a look at your policy and explain which services your provider pays for. Before fire cleanup even begins, you have a full understanding of your costs and coverage.
911 Restoration of Northwest Michigan is licensed, insured, bonded, and locally owned and operated. Our technicians are certified and highly trained to meet the highest standards of the industry. When you turn to us for fire restoration and smoke removal, you can count on safe, quality service.
It's okay if you can't see the light at the end of the tunnel. We do, and we know how to get you there. For comprehensive, compassionate fire damage restoration, call 911 Restoration of Northwest Michigan.
Full-Service Fire Restoration in Traverse City and Beyond
When you're looking at the wreckage of a major property fire, it can be hard to imagine one contractor can handle the entire mess. Not all fire damage restoration companies can do it all. But 911 Restoration is not all fire damage restoration companies.
Our workers are ready and able to meet the unique needs of your property. They take careful measures to minimize damage and preserve everything that remains unharmed. This includes packing out and storing your belongings during the smoke cleanup process.
The smoke removal crew uses state-of-the-art methods to get rid of all fire damage. This includes sodablasting to remove soot, ash, and smoke from surfaces. Techniques like this often help with odor removal. However, sometimes odor-causing particles disappear inside porous materials. In cases such as these, our technicians use sealing methods to ensure permanent odor removal.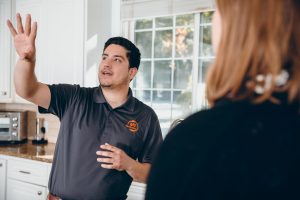 We don't limit our smoke removal service to structural surfaces. Our fire damage restoration technicians clean your furniture and dishes, as well. And if the fire department left your home or business sopping wet, our crew takes care of flood cleanup, too. They remove the water, dry your property, and inspect for mold.
Once they've completed smoke cleanup and odor removal, our workers move on to full property restoration. They rebuild your home or business completely, no matter how extensive the damage is.
Even if you feel like you'll never recover, you can always discover a Fresh Start with 911 Restoration. Call now for comprehensive fire cleanup in Traverse City, Manistee, Gaylord, and beyond.
Your Number One Resource for Fire Cleanup Information
If you need fire and smoke cleanup, you've been through a major ordeal. Your mind is reeling with a thousand questions. You're not sure what the next step should be. You don't know who can help or who you should call.
Consider 911 Restoration of Northwest Michigan your fire information center. Our experts are always here to guide you through this overwhelming time. There is no question too big or too small.
We also provide a free insurance consultation. Fire damage restoration encompasses a wide range of services. As a result, it's not immediately clear what your insurance provider covers. In this time of stress, don't worry about making sense of a complicated policy. We take care of that for you. One of our specialists reviews your coverage and explains your provider's responsibility to you in clear terms. You know exactly what's covered, from smoke removal to roof repair.
They even stick with you through the paperwork process. A professional assists you with loss inventory and files a claim for you. We also bill your provider directly so you don't have to give it a second thought.
We understand what you're going through. And we know how to get you through it quickly and with less stress than you thought possible. For the best fire restoration service and immediate peace of mind, call 911 Restoration of Northwest Michigan.