Water Damage Restoration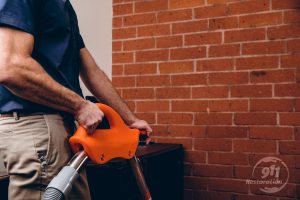 From frozen pipe bursts to ceiling leaks, storm damage to flood repair, call 911 Restoration. You can reach our water damage restoration crew 24 hours a day, 365 days a year. And we don't leave you waiting and worrying as water fills your property. Our team guarantees a 45-minute arrival time, and they keep their promise.
Our certified water damage restoration technicians are genuine experts in all aspects of property restoration. They're highly trained to handle water extraction, emergency boarding up, carpet drying, and much more. They even take care of structural repairs and mold removal. We provide comprehensive service because we believe a disaster doesn't have to be a crisis you survive. Today's ice dam incident or flooded basement can be an opportunity to rebuild, better than ever. Our flood cleanup crew is determined to give you a Fresh Start.
911 Restoration is a nationwide company. Our branch is locally owned and operated, which means you can count on the compassionate service of your neighbors. We're proud to live and work in the greater Traverse City area. We value the people and properties that make this community strong, and we work hard to help you thrive.
Our water damage restoration crew provides instant peace of mind with fast service and clear communication. They move swiftly to minimize damages and costs. We also work with all insurance providers to ensure all our neighbors have access to our services. 911 Restoration of Northwest Michigan is licensed, insured, and bonded.
We're more than a water removal company. We're a full-service resource and your best ally in any water damage disaster. Call 911 Restoration for caring, quality water damage restoration in Traverse City, Manistee, Gaylord, and beyond.
Emergency Water Removal and Flooded Basement Repair
It doesn't matter how water enters your property. You may have been hit by a flood. Maybe an ice dam destroyed your roof or a frozen pipe burst flooded your basement. You may just have an unidentified ceiling leak. Whatever the situation, when you're dealing with water damage, you're dealing with an emergency.
That's why we're available to you 24/7. And when our flood cleanup crew arrives at your property, they don't waste a second.
Our water damage restoration techs provide a free visual inspection (for property owners only). They explain the extent of your damage in clear terms and outline their plan for a swift recovery. The team packs out and stores any belongings at risk of damage. Then, our flood cleanup staff promptly begins emergency services. This could include roof repair after an ice dam, storm repair, boarding up, leak detection, or water removal. Once they've eliminated all water, they bring in professional fans to dry the area to its core. Structural drying is absolutely essential for avoiding long-term damage and mold contamination.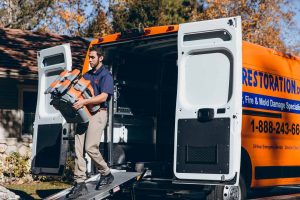 If your flooded basement or ice dam disaster was particularly bad, you may experience structural damage. No matter what destruction you're dealing with, our flood cleanup experts are on it. They handle everything from roof repair to drywall replacement to carpet removal. They even conduct a mold inspection and take care of mold removal.
Fast service is hard to find. Fast and comprehensive… that's something you'll only find with 911 Restoration. Whether you have an air conditioning leak in Petoskey or a frozen pipe burst in Traverse City, call us today.
Insurance Consultation for Water Damage Restoration in Traverse City
The cost of flood cleanup is the biggest worry for most property owners in need of water damage restoration. This stress only increases when you begin to realize that a full recovery requires a wide range of services. You might need water removal, structural drying, drywall replacement, mold inspection, and mold decontamination. To make matters worse, it isn't always clear which of these services your provider covers.
We know you don't have time to go back and forth with your insurance company, so we do the heavy lifting for you. One of our flood cleanup experts reviews your policy, then sits down with you to explain your coverage. You learn which services you need, which of those services your provider pays for, and which costs fall to you.
Then, a staff member assists you with inventory and loss itemization. They file your claim for you, and we bill your provider directly so you don't have to play the middleman. From the moment you call, our goal is to get you through this process with as little stress as possible. We provide a free insurance consultation to quickly remove the worry of expense. As our technicians proceed with water removal and flooded basement repair, you don't have to worry about a cent you don't owe.
Pipe bursts and flooded basements feel like the end of the world. But with 911 Restoration of Northwest Michigan, this is your Fresh Start. Call today, and we'll show you how.
Serving the communities of Cadillac, Charlevoix, Gaylord, Grayling, Harbor Springs, Houghton Lake, Manistee, Petoskey, Roscommon, Traverse City and surrounding area.