Mold Removal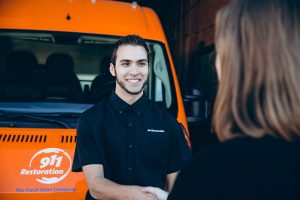 If you have a mold infestation, don't wait until it's too late. Call 911 Restoration of Northwest Michigan for a mold inspection and mold remediation. Our IICRC certified mold removal experts provide comprehensive cleanup, ensuring every trace of growth is eliminated. Your wellness is their top priority.
Our mold remediation crew doesn't just handle infestations. We're a top resource for water damage restoration in Traverse city and throughout the region. Local properties frequently fall victim to water damage, whether it's a rainwater leak or a frozen pipe burst. When water floods your property, mold is almost sure to follow. That's why we train our technicians to handle either catastrophe.
Without prompt mold remediation, your property is vulnerable to severe damage. And you are vulnerable to a wide range of health issues. Our mold removal crew takes these threats seriously. They provide comprehensive service to ensure effective fungus elimination and to prevent a recurring infestation. If you have any mold damage, our team handles those repairs personally. They also maintain an open line of communication and work hard to anticipate your concerns. Your peace of mind is our top priority.
911 Restoration of Northwest Michigan is locally owned and operated, but we're backed by the resources of a national company. We are licensed, insured, and bonded, and we work with all insurance providers. If you think you may be covered for mold remediation, we're happy to provide a free insurance consultation. A staff expert reviews your policy and explains your coverage in clear terms.
A mold infestation makes your home or business feel like it's no longer your own. Call 911 Restoration of Northwest Michigan and let our dedicated crew put you back in control of your property.
Safe and Comprehensive Mold Remediation in Traverse City Area
If you're like a lot of property owners, you might be inclined to look for do-it-yourself mold removal methods. We strongly advise against this approach. Mold is a complex organism. Even if you succeed in eliminating the appearance of mold, you cannot address the root of the issue without professional assistance.
You need a professional mold inspection in order to uncover all colonies hidden on your property. You may see mold on your walls, but one colony often suggests the presence of another. Mold reproduces through airborne spores that travel to all corners of your home or business. Our mold inspection crew recognizes all the signs of a hidden infestation. They do whatever it takes to reveal every trace of growth so no colony is left behind to thrive.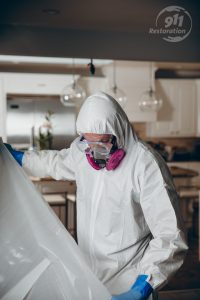 The mold removal process is also unsafe for the average property owner. While black mold is famously dangerous, the truth is that all mold is harmful to your health. Fungus releases harmful particles into the air you breathe. When they gather in your system, those particles can lead to health problems including allergies and even heart issues. Scrubbing at a colony forces the release of particles. Our certified mold remediation technicians use safe mold removal methods to clean the infestation without spreading spores and mycotoxins.
Finally, your own mold removal methods are unlikely to prevent a repeat infestation. Our workers complete every job with structural dehumidifying. They use professional tools to dry the site of the infestation. Without this step, moisture is bound to rise to the surface once again. When this happens, mold spores have a welcome place to land and create a new colony.
Only a professional mold remediation company can ensure effective, lasting mold cleanup. If you put off hiring a professional, mold will reappear and thrive on your property. Over time, this leads to major structural damage and a greater expense in the long run.
If you need mold removal in Traverse City, Cadillac, Manistee, or the surrounding area, call 911 Restoration. We'll get you through this problem and on to a Fresh Start.
Do I Need a Mold Inspection After a Basement Flood?
It only takes 24 hours of exposure to a damp surface for mold spores to create a new infestation. For this reason, a water damage incident always brings a threat of mold development. This is especially true in the case of a basement flood. Concrete absorbs water, and mold grows quickly in dark spaces.
Our water damage restoration professionals complete every job with a thorough mold inspection. If you didn't use 911 Restoration for water damage restoration, call us for a mold inspection right away. Without a prompt intervention, mold eats away at the structure of your home or business. The longer a colony goes undiscovered, the worse your long-term damage will be.
As water damage restoration professionals, our mold inspection crew understands the unique behavior of basement mold. They know where to find the sneakiest growth. They also know how to manage mold removal effectively in a perpetually damp space like a basement.
Your dedicated mold remediation workers also come equipped to repair damages caused by your infestation. Whether it's an unsightly stain, contaminated carpet, or compromised floorboards, they restore any surface or structure. In the end, it feels as though mold never invaded the property you love.
You've worked hard to make your home or business a safe haven. We work hard to keep it that way. For the mold remediation service you deserve, call 911 Restoration of Northwest Michigan.