Commercial Restoration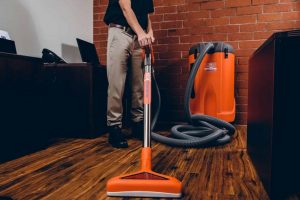 At 911 Restoration, we believe commercial restoration should be fast, comprehensive, and compassionate. Whether it's a flood, fire, or mold contamination, a property crisis represents a threat to your livelihood. You need a crew who understands what's at stake and will put your needs first.
You find that in 911 Restoration of Northwest Michigan. Our commercial restoration staff is on call 24/7. You can reach us even when a pipe bursts at midnight or the sewer backs up on a holiday. Our technicians guarantee an arrival time of 45 minutes or less, so you can get through this crisis in record time.
Our entire commercial restoration staff is IICRC certified. 911 Restoration is licensed, insured, bonded, and prepared to meet the unique needs of your business property. We are backed by the resources of a national company. But your Traverse City branch is locally owned and operated by members of your own community.
We hold ourselves to a high standard, especially when it comes to commercial restoration. We understand that your property is part of your brand and business. Basic water removal and mold cleanup are not enough. You need comprehensive service to make your building shine again. You get that with 911 Restoration of Traverse City. Our experts are highly trained in property restoration. They can repair any structure and replace every surface.
911 Restoration provides commercial property owners with a wide range of services, including:
Water damage restoration
Fire cleanup
Sewage restoration
Mold remediation
Smoke removal
Disaster restoration
And more
In other words, we're your one-stop shop for a Fresh Start.
For quality commercial restoration in Traverse City, Cadillac, and throughout the region, call us today.
Commercial Water Damage Restoration in Traverse City Area
If you have a business in the Traverse City area, you're bound to experience a water damage emergency sooner or later. The local climate ravages businesses with everything from tornado damage to ice dam destruction. Fortunately, you can turn to us for water damage restoration at any hour of the day or night.
When our water removal crew arrives at your property, their first priority is to limit the scope of destruction. They pack out and store any items or inventory that has not yet been harmed. This ensures you don't suffer any unnecessary losses before the water damage restoration team can get the crisis under control.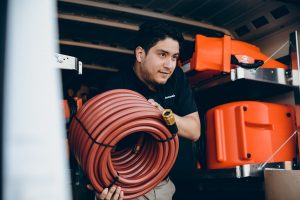 Then, our workers move quickly to complete water removal. If you need any additional work to prevent further water invasion—such as roof repair or boarding up—they handle that, too. Once the water damage restoration staff has eliminated the water, they dry the area completely.
Every water-related incident is a water damage emergency. This is because standing moisture leads to a wide range of issues. Your structure could rot or become weak. You might experience warping in your floor boards or develop a mold infestation. We respond to your water damage emergency immediately in the hopes of avoiding these consequences. This is also why our water removal experts are vigilant about structural drying. Any lingering dampness could cause more problems down the road.
Water damage restoration always concludes with structural testing and mold inspection. Our crew wants to be certain your commercial property is still in top condition. If they find any concerning issues, they repair problems and remove mold themselves.
If you experience a water damage emergency, don't panic. Just call 911 Restoration of Northwest Michigan. Our technicians arrive in 45 minutes or less and put you back to work with a property that feels brand new.
Free Insurance Consultation for Property Owners
Insurance issues add an extra layer of stress to an already challenging situation. For one thing, it can be difficult to get clarity regarding your insurance coverage. You know your policy includes fire damage restoration, but you're not sure if sodablasting and drywall replacement are part of that coverage. Or you know your provider pays for water removal, but you're not certain about carpet removal due to mold contamination.
To make matters worse, you don't have time for any of this. If you need commercial restoration, you're already in the midst of a professional crisis. You have to keep your business alive and running, not comb through complicated insurance terms.
We've got you covered. 911 Restoration provides a free insurance consultation to help you make sense of your policy. We offer a free visual inspection (for property owners only) to assess the needs of your situation. Then, a staff member explains which of your needed services are covered under your insurance policy. You know exactly what you're getting into from the very beginning.
We even help you carry the burden of paperwork. A commercial restoration expert assists with inventory and loss itemization. Then, they file a claim for you and bill your provider directly.
If you need commercial restoration in Traverse City, Manistee, and beyond, choose the contractor who understands your priorities as a business owner. Call 911 Restoration.
Serving the communities of Cadillac, Charlevoix, Gaylord, Grayling, Harbor Springs, Houghton Lake, Manistee, Petoskey, Roscommon, Traverse City and surrounding area.